The Ultimate Purpose of Chat Rooms
The Ultimate Purpose of Chat Rooms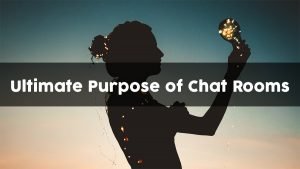 Chat rooms are one of the most popular reasons to use the internet.
Which begs the question, what's their purpose?
There are a few major reasons for what chat sites are made for.
They range from the interest of meeting new friends to discussing various topics to just passing the time with other strangers.
Modern technology is opening up even more opportunities for online chatting such as high-definition mobile face cam.
Below is an outline of 3 key reasons people use chat rooms.
---
1. Entertainment Value
Online chatting is first and foremost a form of entertainment.
Connecting with other people is a natural, happy, human emotion.
There are multiple ways to entertain yourself online, but simply talking to others is one that many people overlook.
Telling stories to strangers or your friends is a classic way of enjoying yourself.
You can even use them as a convenient way to hang out with your real-life friends!
---
2. Meeting New People
Meeting new people is the core principle of chat rooms.
When going into a high-profile, public setting like this, you are bound to see many users.
Chatting is a great way to exchange information about a variety of topics that interest you.
You could even talk to someone from across the world and explore new things from them!
For example, learning how it's like to live in a specific foreign country, gives you information for the future if you wanted to visit there.
---
3. Starting A Proactive Adventure
Whatever your reason for trying chat rooms, just get up and do it!
They are a great way of jumping right into the exciting online world.
Finding something relevant to you on the internet is incredibly easy.
Many people use chatting as an easy, proactive activity to do something new and entertaining.
What are you waiting for? – Get out there and start chatting!
---
About The Author. — Heyomg is an expert in communication and contributor to Joingy, a chat app to meet strangers. Visit their Official Blog for guides on similar chat topics.