Fun Sick Days: 6 Reasons to Try Using Chat Rooms
Fun Sick Days: 6 Reasons to Try Using Chat Rooms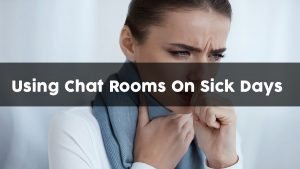 Chat rooms are a whole lot of fun because you can chat with people anytime, anywhere. That means they are great for when you are feeling under the weather and are stuck at home because you don't want to spread your germs around. Chatting online and having a laugh can actually make you feel better. Here's why chatting online during a sick day is great!
---
Don't Worry About Looks
Feeling too gross to put on clean clothes? Haven't showered for a couple of days? That's no problem with online chatting. You don't have to look good at all because no one is going to see you! In fact, no one even has to know that you are even sick. Forget about your illness while chatting online.
---
Getting to Stay Inside
Going out while you're sick not only doesn't feel good, but it also risks spreading your germs to others. However, if you've been sick for a few days, you might end up going a little stir crazy. Going online to chat is a great way to get your fill of social interaction while still keeping away from others.
---
Talk During Any Hour
Sometimes feeling sick means you can't sleep. You might be coughing late at night, or simply can't sleep due to uncomfortable feelings. People are online to chat at any time of day or night because when it's the middle of the night where you are, it's the daytime somewhere else!
---
Receiving Real Advice
If you're really not feeling well, you can go into an online chat room to find people who are sick with the same thing that you have and get advice on what has worked for them to make themselves feel better. However, keep in mind that it's best to get advice from a real medical professional if you're facing something serious.
---
Discussing Anything
When you go into an online chat room you can talk about anything you would like to. You can keep it light, fun, and casual with topics such as celebrity gossip, jokes, and memes or what the weather is like. You can also go down a serious path with political or religious discussions and arguments. If you don't like what's going on in one chat room, you can likely join a different one that is more your speed at the moment.
---
Tons of People Online
There are always many people chatting on the web. If you are sick and you get tired, you may want to take a nap. Go for it. When you wake up, there will be others to chat with online! If you do really like someone and want to chat with them again, make sure to get their contact info so you can stay in touch and perhaps become email penpals.
---
About The Author. — Heyomg is an expert in communication and contributor to Joingy, a chat app to meet strangers. Visit their Official Blog for guides on similar chat topics.