5 Pleasantly Surprising Benefits of Chat Rooms
5 Pleasantly Surprising Benefits of Chat Rooms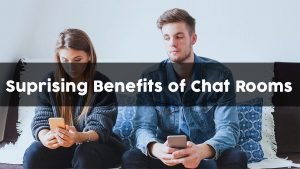 Sure, you may see a basic appeal of chat rooms, but maybe you haven't tried them enough to know about the best benefits they offer. Some of these features may surprise you!
---
1. Low Barrier to Entry
If you want to chat online, there's not anything crazy that you have to do. You can just sign up and start chatting. You have nothing to lose and lots to gain when going into an online chat room. There aren't really any negative consequences of chatting online and many positive ones. You can make real friends, try out social situations online before you try them in real life or even get advice on real-life situations!
---
2. Develop Social Interactions
If you find yourself feeling shy in real life, you might find it helpful to observe social interactions online. Once you have observed for a little bit, you can try out different social techniques before you give them a shot in real life. If you find you are shy and awkward you can practice being confident and sure of yourself online.
---
3. Be Whoever You Want
While it is always best to be truthful about yourself online, if you are quiet and shy in real life, you can be loud and boisterous online in a chat room. This can help you to gain these skills in real life. It's basically just practicing to be however you want to be. Practice any type of social skill you think you need like being compassionate, thoughtful, or more confident and then let it translate into your everyday life.
---
4. If You Mess Up, That's OK
People on chat room sites are very understanding. If you mess up and say the wrong thing, even if people in that chat room don't appreciate you anymore, there are numerous other rooms to explore full of people who are willing to give you a second chance. Plus, it's safe. If someone gets mad at you, they are probably halfway across the country and can't hurt you or anything like that. It's a great way to practice conflict management in a safe environment where nothing bad can happen to you.
---
5. Learn About the World
When you chat online, you can chat with people who are very different from you. Many of them live across the globe in different situations from you. Even if someone lives closer to you, they may be part of a different social group, part of a different religion, or something like that. You can really use online chatting to get a glimpse of different people in the world and make sure that you are a well rounded and accepting person who knows about the world.
---
About The Author. — Heyomg is an expert in communication and contributor to Joingy, a chat app to meet strangers. Visit their Official Blog for guides on similar chat topics.